Tire Rotation Service in Sullivan, IN
Because your tires are your primary point of contact between you and the road, you need to make sure they are in good working order. One way you can do this is through a tire rotation service here at Sullivan Auto Group. Our onsite Service Department is staffed with highly-qualified mechanics to help you with all of your vehicle needs. Schedule your appointment today online or by calling 812-268-4321.
A tire rotation is a fairly simple process where our mechanics will switch the position of your front and rear tires. The purpose of this is twofold. The primary reason this service needs to be done is to keep you safe. Since your front set of rubbers take the brunt of the force every time you stop, their treads wear out faster than your rear ones. If the treads disappear enough, your tires will not be able to grip the road as well or stop your vehicle as soon as you need them to. This is a safety hazard that you want to avoid altogether. The other reason for a tire rotation is to extend the life of your rubbers. By getting them regularly rotated, you won't need to replace them for a while. Plus, deals on tires normally include all four, not just two.
As soon as you drive up to one of our service bays, a member of our staff will escort you into our comfortable waiting room, while another will take your car in to get looked at. Our mechanics will do more than just rotate your tires. They will also inspect your oil levels since both services are on the same time schedule. Before you come in, make sure you take advantage of our current service specials to help offset some of the cost. If you have any questions prior to your visit, feel free to utilize our Ask a Tech form. Your inquiry will go straight to one of our technicians, who will respond promptly. With so many helpful online tools and top-notch staff, what more could you ask for?
Your next tire rotation service in Sullivan, IN, can be done right here at Sullivan Auto Group, located at 2406 North Section Street in Sullivan, IN. We have the proper facilities and personnel to accommodate all of your vehicle's needs, so don't wait until the problems get worse. Stop by during our convenient service hours Monday through Saturday. We look forward to assisting you!
Testimonials
Fast and Friendly Service!
3-30-2019
5 Stars!
3-19-2019
Love this place!
3-3-2019
Fantastic Service Department!
2-20-2019
Great Place to shop for New or Used Vehicles!
1-26-2019
Knowledgeable Employees!
1-12-2019
Great Service!
11-17-2018
Awesome Experience!
10-19-2018
Good Selection!
9-28-2018
we couldn't be happier with the staff!
9-13-2018
Great Place
8-17-2018
Great place to buy a vehicle
8-9-2018
5 Stars
8-1-2018
Local Buyer
7-26-2018
Return Customer
7-12-2018
Very Patient
7-3-2018
Wonderful Experience
6-21-2018
Read More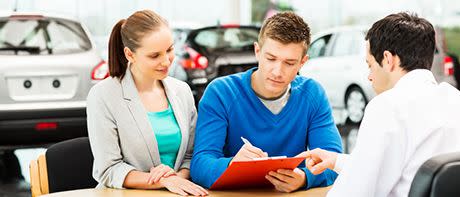 Sales Hours
(812) 268-4321
| | |
| --- | --- |
| Monday | 9:00 am - 8:00 pm |
| Tuesday | 9:00 am - 8:00 pm |
| Wednesday | 9:00 am - 8:00 pm |
| Thursday | 9:00 am - 8:00 pm |
| Friday | 9:00 am - 8:00 pm |
| Saturday | 9:00 am - 6:00 pm |
| Sunday | Closed |
Service Hours
(812) 268-4321
| | |
| --- | --- |
| Monday | 8:00 am - 5:00 pm |
| Tuesday | 8:00 am - 5:00 pm |
| Wednesday | 8:00 am - 5:00 pm |
| Thursday | 8:00 am - 5:00 pm |
| Friday | 8:00 am - 5:00 pm |
| Saturday | Closed |
| Sunday | Closed |