Oil Change Service near Terre Haute, IN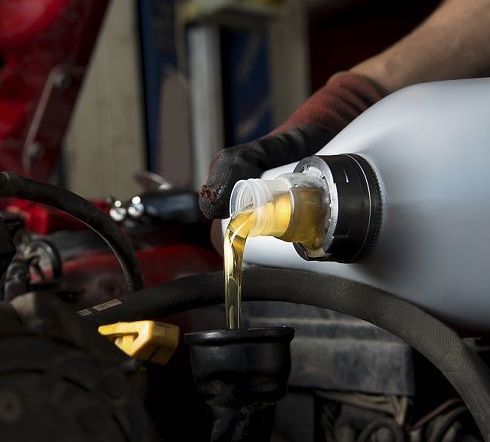 Service Hours
(812) 268-4321
| | |
| --- | --- |
| Monday | 8:00 am - 5:00 pm |
| Tuesday | 8:00 am - 5:00 pm |
| Wednesday | 8:00 am - 5:00 pm |
| Thursday | 8:00 am - 5:00 pm |
| Friday | 8:00 am - 5:00 pm |
| Saturday | Closed |
| Sunday | Closed |
Making sure that you have a fresh batch of oil at your disposal is one of the most common reasons to bring your vehicle into our service bay. Have you noticed that your current batch is a little darker than it used to be? Maybe your vehicle hasn't been receiving the same mileage that it used to. You can set up an appointment with our Service Department today by giving us a quick phone call at 812-268-4321!
Timeframe
Making sure that your engine is supplied with a clean amount of oil is beneficial for a multitude of reasons. For starters, your golden fluid acts as a lubricant that makes sure the constantly-moving components of your engine are working together rather than against. After a while, your oil will change to a dark brown or black color from constantly being circulated throughout your powertrain. This is because it also acts as a cleaning agent that is constantly removing dust particles and byproducts from your engine to keep things as clean as possible for the long haul. Unfortunately, it doesn't last forever, which is why we suggest coming by every 3,000 to 5,000 miles to make sure everything is running properly.
Warning Signals
There are a couple of signs for you to look out for to lend a helping hand of knowing when it is about that time. We suggest that you take a quick peek at your Owner's Manual for a manufacturer's recommendation since all vehicles run differently and vary in their performance. If you notice that your engine seems a bit louder, or you hear a knocking noise beneath the hood while it is being used, then you might want to schedule an appointment with us. Another obvious signal is if you notice the smell of oil permeating the cabin. This means that your levels are low and oil is starting to burn into the exhaust area. If you notice any of these, call us as soon as possible!
Tools
We make getting the process started a breeze when you partner with us here at Sullivan Automotive Group. If you have any questions pertaining to an oil change or simply want to know what goes into the entire procedure, you can make use of the Ask a Tech form that will put you in contact with one of our knowledgeable mechanics. If you know that you need to get your oil change completed, then simply click on the Schedule Appointment form to secure a time slot.
Is it about that time for an oil change service near Terre Haute, IN? We have got you covered when you swing by our service bay here at Sullivan Automotive Group. We are located at 2406 North Section Street in Sullivan, IN!
Testimonials
Fast and Friendly Service!
3-30-2019
5 Stars!
3-19-2019
Love this place!
3-3-2019
Fantastic Service Department!
2-20-2019
Great Place to shop for New or Used Vehicles!
1-26-2019
Knowledgeable Employees!
1-12-2019
Great Service!
11-17-2018
Awesome Experience!
10-19-2018
Good Selection!
9-28-2018
we couldn't be happier with the staff!
9-13-2018
Great Place
8-17-2018
Great place to buy a vehicle
8-9-2018
5 Stars
8-1-2018
Local Buyer
7-26-2018
Return Customer
7-12-2018
Very Patient
7-3-2018
Wonderful Experience
6-21-2018
Read More