Air Filter Replacement Service near Terre Haute, IN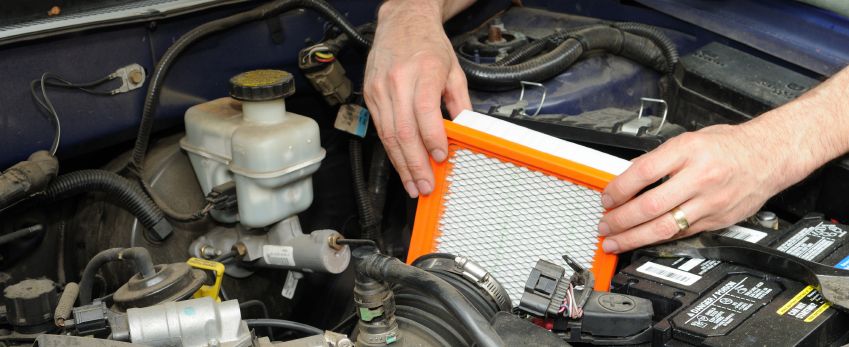 Maintenance is an important aspect of keeping your car running well for years after its purchase. You might think you have your bases covered with frequent oil changes, tire rotations, and brake pad replacements, but you'd be forgetting a crucial service—air filter replacements! Keep your engine healthy by coming to Sullivan Automotive Group and requesting this for your beloved vehicle. We'll have you back on the road in no time at all!
What Does an Air Filter Do?
All engines operate using some kind of combustion system to get power from their fuel source. This means that they need some form of air supply, typically facilitated by some kind of intake found somewhere near the front of your vehicle. Much like if you leave a door fully open, an unprotected intake would let in a whole host of unwanted things. Just imagining all the insects that accumulate on your windshield might start to give you an idea of would go directly into your engine: bugs, gravel, dirt, and mud. Much like a screen door, an air filter keeps all these unwanted visitors out.
Benefits of a Fresh Filter
So, now that you've seen what all an air filter keeps from entering, you might start to understand why it needs replacement. Over time, it becomes saturated with all the grime it's keeping out and starts to work less and less efficiently. This in turn causes your engine to run at a sub-optimal level. So, replacing your air filter regularly helps your engine run more powerfully, and more efficiently. You'll not only save more money at the gas pump, but you'll save yourself from the risk of long-term engine damage, which would be a far more expensive repair than a simple filter replacement.
Service
Finally, we want to remind you of how easy Sullivan Automotive Group makes the service process. If you want to make your maintenance as quick and easy as possible, schedule your appointment ahead of time to ensure that you won't be waiting in any long lines when you arrive at our dealership. When you do pull into our bay, you'll be greeted by one of our expert technicians who will first take care of your air filter replacement before also checking the other hotspots on your vehicle just in case you want to do multiple things in one visit, saving you the trouble of an additional trip down the road. Be sure to check our specials before you come in so you don't miss out on any great deals!
Make sure your vehicle stays healthy for the long run! Come into Sullivan Automotive Group for air filter replacement service near Terre Haute, IN, at your earliest convenience. We have convenient hours, so we're certain you'll find a time that works for you.
Testimonials
Fast and Friendly Service!
3-30-2019
5 Stars!
3-19-2019
Love this place!
3-3-2019
Fantastic Service Department!
2-20-2019
Great Place to shop for New or Used Vehicles!
1-26-2019
Knowledgeable Employees!
1-12-2019
Great Service!
11-17-2018
Awesome Experience!
10-19-2018
Good Selection!
9-28-2018
we couldn't be happier with the staff!
9-13-2018
Great Place
8-17-2018
Great place to buy a vehicle
8-9-2018
5 Stars
8-1-2018
Local Buyer
7-26-2018
Return Customer
7-12-2018
Very Patient
7-3-2018
Wonderful Experience
6-21-2018
Read More

Service Hours
(812) 268-4321
| | |
| --- | --- |
| Monday | 8:00 am - 5:00 pm |
| Tuesday | 8:00 am - 5:00 pm |
| Wednesday | 8:00 am - 5:00 pm |
| Thursday | 8:00 am - 5:00 pm |
| Friday | 8:00 am - 5:00 pm |
| Saturday | Closed |
| Sunday | Closed |